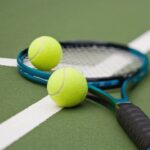 Can a tennis ball really give you home-buying insight? Normally, when people are looking for properties to purchase, they worry about the roof or the walls or the plumbing or the appliances or the heating/ac system, but not many realize that inspecting the foundation is critical to the building's structural integrity.
At Helfrich Associates, we use a bottom-up approach that looks at your lot and home's foundation first. That's where the tennis ball test comes in! Grab a tennis ball next time you're on your way to check out a property for sale. You might be asking yourself how a tennis ball can make a difference, and what it can tell you. We're here to help, so let's dive in …
Not Everything That Glitters Is Gold
There's an old adage that reminds us that the perfect-looking home for sale across from a great public school, at a great price, might be hiding something. And while it's imperfect to be perfect, there are some things you must be sure to do before you snap up the "perfect" property.
Before selling a property, most investors will often do plenty of work to spruce up the place – patching cracks, new coats of paint and appliances, and even new carpeting or hardwood flooring.
Unfortunately, there are some bad apples out there that decide to hide problems instead of fixing them. Perhaps they'll add wall-to-wall carpet over old hardwood floors to cover up pet urine stains or bad water damage. Maybe there are broken tiles in the bathroom that they've tiled over instead of removing and replacing. Even a broken sewer line under the home can be hidden from a prospective buyer if the investor is motivated.
The Tennis Ball: Game, Set, Match
Some real estate investors are more thorough than others when it comes to renovating properties, so it's important to bring out that tennis ball and drop it on the floor of your potential property. Did it roll across the room? If it did, the property could have hidden foundation problems that will need to be corrected to ensure the integrity of the building.You can also look for other telltale signs such as wall cracks or misaligned door frames – these are both signs that there may be expensive repairs on the table.
If you do the tennis ball test on the property you're interested in and it fails, don't give up just yet! Give Helfrich-Associates a call! Our professional, experienced specialists will look at the property for you and provide a detailed diagnosis of the problem, advise you on how to resolve any issues and give you an estimate on repairing any foundation issues. You may be able to use this information to negotiate the price of the property downward or ask the owner to make repairs before making the purchase.