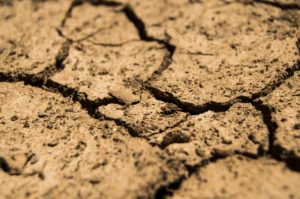 Now that most of California has emerged from a severe drought, thanks mostly to a very robust 2016-17 rainy season, most Californians are feeling pretty optimistic about using more water.
One major worry is land subsidence. Land subsidence is often caused by lowering the groundwater level, which is in turn caused by excessive pumping from wells.  Lowering the groundwater causes soils above the water to settle.  Land subsidence usually occurs over a very large area, so it's easy to miss unless you live on or near an area that's experiencing differential subsidence.  In California, damage caused by land subsidence is estimated to be hundreds of millions of dollars.  According to the Water Education Foundation, "Half of all of the subsidence that has occurred in the United States has occurred in California."
Land subsidence can be a disaster for property and building owners. Major groundwater pumping will cause the upper layer of soils, often where building foundations are placed, to shrink and drop. This condition is permanent and irreversible, no matter how many storms or water move through the area, even if the groundwater levels return to previous levels.
If your building is located on a property that suffers from land subsidence, it's likely that it will suffer from foundation issues. Properties and buildings may also suffer from major breaks in their underground sewer, gas and electrical lines. Also at risk are ground wells, roads, and bridges. Not only that, but subsidence can also be bad for your wallet. The costs from this type of damage are often not covered by insurance carriers. According to the National Flood Insurance Program (NFIP):
"… most slab and foundation damage occurs because of a lack of moisture in the ground. The soil shrinks away from the foundation, allowing the grade beams to settle downward under the supported weight. This results in a bowing effect and cracks. When excess water enters the ground, upward pressure is exerted on the slab floor and inward pressure on the subgrade foundation walls. This causes cracks and displacement. Damage of this kind is considered the result of hydrostatic pressure and is not covered under the Standard Flood Insurance Policy (SFIP), unless there is a general condition of flooding in the area."
One of the methods for repairing foundation issues that we use at Helfrich-Associates is underpinning. Underpinning involves modifying a foundation so that it rests on a more supportive soil and distributes the load across a greater area. Hydraulic jacks can be used to level the building, while a system of piers and structural foam is installed under the building. Once the lifting and stabilization has been completed, we inspect the work to make sure that the building is structurally sound.
Has your property experience land subsidence due to the drought? Tell us about your experience in the comments section, below.
You can also join in on the conversation on our Facebook, Twitter or LinkedIn pages.