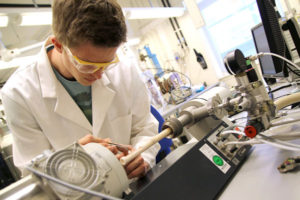 The Orange County Science and Engineering Fair has promoted science and engineering in Orange County, California since 1955. For the last three years, I've had the pleasure of judging some of the brightest young minds in Southern California as they engage in project-based learning in the fields of engineering, science, mathematics and technology. These STEM subjects are critical to ensuring California has the talent to continue innovating and leading in each of these fields, now and in the future.
The mission of the OCSEF "is to enable students to improve their science and engineering skills and literacy while inspiring them to consider careers in STEM fields. [It is] committed to challenging students to inquire, design, investigate, and present scientific and engineering concepts through hands-on experimentation."
This is a fun event that I've had the privilege to continue to be a part of, and I'm proud and excited to have had the opportunity to return over the last few years. It's a great way to encourage kids at a young age to get into science and engineering. The responsibility of encouraging these students to select, or not select, a career in science or engineering is huge. In fact, it's a bit daunting to know that our comments and decisions will impact the way these kids view science and scientists as adults.
This year, as part of a panel of experts, I judged sixth, seventh and eighth grade students on projects that were based on the earth sciences. The students we judged presented on a wide variety of topics, with projects involving soil erosion, tsunamis and roofing materials as well as heating and cooling projects and the heating characteristics of brick used in housing materials.
The projects were well thought-out, detailed and innovative. I was constantly amazed at what these kids brought to the competition. They were well ahead of where I was at the same age!
Over the course of a full day, our panel judged 15 projects. Each student gave a five-minute presentation of their topic, the purpose of the project and the experiments they did to test their hypotheses. As part of our judging duties, we asked each presenter to elaborate on their procedures and results. Our team then selected the best projects based on our combined knowledge and experience.
This was an exceptionally fun event and I look forward to continuing to work with these students again next year.
Have you been involved with the Orange County Science and Engineering Fair? Tell us about your experience in the comments section, below.
You can also join in on the conversation on our Facebook, Twitter or LinkedIn pages.