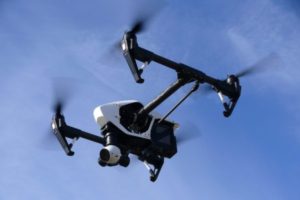 Drones aren't just for the military anymore. Drones are being used in all types of commercial industries these days, from insurance to the media to construction. Although military drones are the most familiar type of drone, they're not very common in civilian airspace. When one does see a drone, they're usually the kind of drone known as a hobby drone. These drones can be purchased by anyone and can be found on retail web sites like Amazon.
Drones, technically known as unmanned aerial vehicles (UAVs), have become very affordable and easier to obtain than ever. In fact, these drones are becoming so popular that according to the FAA, in 2015 alone there were over 650 drone sightings by aircraft pilots – more than double the 238 sightings in 2014.
In fact, drones are now being used in the engineering and constructions fields. Many firms are using drones to evaluate the exterior conditions of their client's facilities, such as the roof and other hard to get to locations. That can mean more accurate inspections with less worry over a worker falling from a ladder during the inspection. Drones are even being used during the construction and installation portion of projects.
A recent example of drone use by engineering firms is from Burns & McDonnell, the first engineering firm in Kansas to get United States and Canadian approval for commercial drone use. The firm's manager of geospatial services, Steven Santovasi, said the firm used drones "when installing more than 200 miles of transmission lines in Canada through extremely rugged terrain and brutally cold temperatures."
"In the past, engineers would have to physically walk the route to gather those precise measurements and data … using UAVs allowed us to do our job safer, more efficiently and significantly faster, saving our client time and money."
Drones provide better resolution when it comes to photos and video, while reducing the cost to a firm. That's a big advantage and savings over previous technologies such as satellite and other aerial resources.
Drones have been used in the Oil & Gas industry as well. Take BP for example, which has been using drones for pipeline inspections.
BP's engineers use a quadcopter to perform close-up inspections of sections of pipeline. Using the drone, they can fly without a pilot, which makes the inspection quicker and safer. The BP drone is equipped with special sensors and video cameras and can do infrared photography to fine problem areas and leaks over broad stretches of pipeline. These photos can then be sent to the engineering team for evaluation and operational modifications.
Civil engineers are using drones to perform 2D and 3D mapping projects. This is achieved using laser scanning devices and can help engineers construct virtual representations of real-world projects – assisting engineers in the planning and development stages of their most difficult projects.
At Helfrich-Associates, we've begun using drones on some of our riskier projects. Have any of your projects made use of a drone? Let us know in the comments below.
You can also join in on the conversation on our Facebook, Twitter or LinkedIn pages.